Well, it's January 14th and still no snow here.  I'm rather disappointed.  We were so hoping for snow over Christmas Break so we could sled or build a snowman.  But, no snow.  Not then, not now.  So, the only cute picture I can offer you is the adorable and quite delicious snowman my Aunt Cindie made for our Christmas Eve party.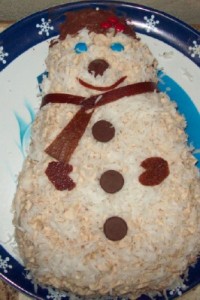 Not only was this the cutest dish on our table, but it was surely one of the tastiest ones.  She made this cake in her snowman cake pan.  But, you can adapt it to fit any cake pan, or even make cupcakes.  She used various garnishes to decorate her snowman, including, shredded coconut for the body, Hershey's Kisses for the buttons, fruit leather for the scarf, mittens, and smile, and M&M candies for the eyes and hat.  She also added a little chocolate frosting for the hat.  Whatever shape you make this cake and whatever way you decorate it, you won't be disappointed.  This is one yummy snowman!
To make the chocolate cake, you will need:
1 ½ cups of semi-sweet chocolate chips
½ cup of butter, softened
16 oz. package of light brown sugar
3 eggs
8 oz. sour cream
2 cups of flour
1 tsp. baking soda
½ tsp. salt
1 cup hot water
2 tsp. vanilla extract
Preheat oven to 350 F.
Microwave chocolate chips for 1 to 1 ½ minutes until melted.  Stir every 30 seconds.
Beat together the butter and sugar until well blended.
Add the eggs, and beat.
Add the melted chocolate chips and beat till blended.
Mix in the sour cream.
In a separate bowl, sift together the flour, baking soda and salt.
Add flour mixture to chocolate mixture and beat on low until blended.
Gradually add in the hot water and beat on low until blended.
Stir in vanilla.
Pour batter into your choice of cake pan (or cupcake pan).
Bake cake for approximately 35 minutes (cupcakes about 18 minutes.), or until wooden toothpick inserted in center comes out clean.
Cool completely.
To make the frosting, you will need:
½ cup butter
16 oz. cream cheese, softened
32 oz. powdered sugar
1 tsp. cinnamon
2 tsp. vanilla extract
Stirring constantly, cook the butter in saucepan over medium heat for 6 -8 minutes until the butter turns golden brown.
Remove from heat and pour into a bowl.
Cover and chill until the butter begins to solidify (about 45 minutes).
Beat the butter and cream cheese with electric mixer until creamy.
Gradually add in the powdered sugar and beat until fluffy.
Stir in the cinnamon and vanilla and beat until combined.
Frost the cake.
Decorate.
Serve and Enjoy!