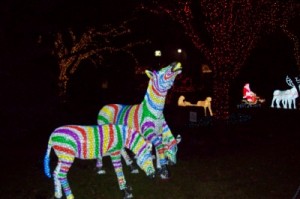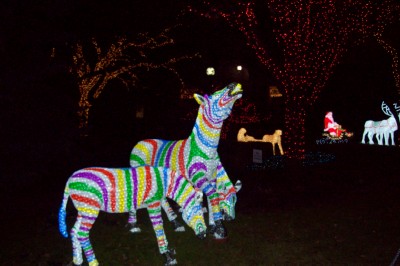 Last Friday night, we went to see Zoo Lights at Lincoln Park Zoo in Chicago, IL.  It was a really wonderful time.  It is a free event, except you do have to pay for parking, unless you are lucky enough to find a free spot on the street.  The Zoo is so beautifully decorated.  Thousands of shining lights, lights that flash and dance to music, snow globes, lighted displays – it was just beautiful!  There were also a few life sized characters walking around.  We took a picture with Mr. Penguin and Mr. Polar Bear.
When you entered the park, they gave each visitor a pair of 3D glasses.  They weren't for any kind of show to watch; they were for viewing the lights.  When you put the glasses on, they made each bright light look like a snowflake.  It kind of elongated the lights.  It was pretty cool.  They even worked at home when we looked at all kind of lights – even the stop lights.  (Don't worry, the person driving our group wasn't wearing the 3D glasses.)
There were all kinds of activities at the zoo too, including ice carving, crafts for the kids, and of course, photos with Santa.  Additionally, the train and carousel were also available to ride.  You could walk around and visit the animals and sip hot chocolate.  It was such a fun evening.  I highly recommend it.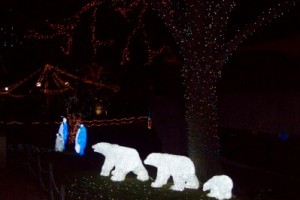 Although we visited the zoo in Chicago, I know other local zoos have similar events.  Check out your local zoo for a fun family holiday time.  It's a great way to create a holiday tradition with your family.  And, if you have any great holiday traditions or family fun ideas, please share them with us.