Hi.  I just wanted to give you some last minute ideas you can use for your Thanksgiving gathering.  If you are in charge of dessert this year, consider making this delicious Pumpkin Cake.  But, if you are really short on time, you can make a simple batch of brownies and make them look really festive by cutting and serving them in cupcake liners and topping them with Brach's Mellowcrème Pumpkins.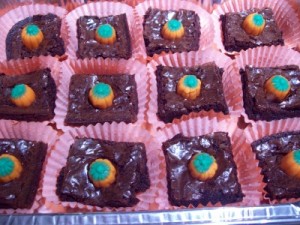 Very cute, very easy – your guests will be impressed.
I think my recipe for Green Bean Casserole is the best – try it.  Or, try my Smashed Potatoes.  For a dessert, Grape Salad would surely be a hit.  And finally, don't forget The Blessing Mix.
Whatever is on your table, I hope you are able to share it with family and friends.
Happy Thanksgiving!