Wow, we just finished a whirlwind of a week!  First, we had a Halloween party on Wednesday, then, a field trip to Springfield on Friday, and finally, a long weekend in St. Louis.  Needless to say, I have a lot to share with you. 
To start, today I wanted to tell you about the scary strawberries I made for Halloween.  Scary in appearance only; actually they were quite delicious.  I got the idea from Pinterest.  I was scanning for Halloween ideas and came across some white chocolate covered strawberries decorated as ghosts.  I thought it was so cute and knew that it would be pretty simple to make, although it did take a bit of time to decorate the big batch I made.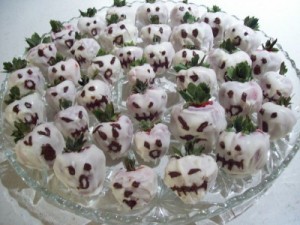 I decided to do a bunch of scary faces for my strawberries, not just ghosts as I had seen in the picture.  I painted some ghosts, some skeletons, and some other creepy faces.  I know Halloween has already passed for this year, but if you add this to your favorites or bookmark it, you will be ready to go for your next Halloween Party.
You will need:
– Fresh strawberries
– Wax Paper
– Candi Quik Candy Coating –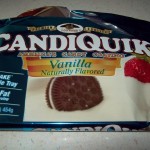 This is my favorite white chocolate to use for dipping and coating.  It comes in a one pound package.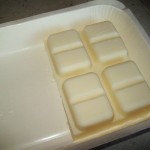 It has its own microwavable tray and the squares melt very easily.  And, it tastes great.  I found this product at Walmart in the baking section.
– A Toothpick
– A Handful of semi-sweet chocolate chips
Here are the simple steps you will need to follow to create these scary but delicious strawberries.
First, wash and pat dry the strawberries.  Leave the green tops on the strawberries.
Let them sit out on the kitchen counter and pat dry again before you dip them in the white chocolate.
Melt the white chocolate squares as directed on package.
Dip each strawberry in the white chocolate.
Set on wax paper to harden.
When the white chocolate is hardened, melt the chocolate chips in a small bowl in the microwave.
Dip the end of the toothpick in the melted chocolate chips.
Decorate the strawberries  with ghost faces, skeleton faces and your very own creepy face creation.
Place the decorated strawberries on a plate, cover and refrigerate until ready to serve.
Serve and Enjoy!
Your guests will surely be impressed!
If you have any simple Halloween desserts, I would love it if you would share them with us.