Even though Halloween has come and gone, I wanted to share this recipe with you because it's a delicious dessert that I make quite often, not just for Halloween.  And, with so many holiday parties coming up, I thought you might like to try this.  Just adjust it a bit – skip the worms!
Yes, worms.  I made this for my Halloween Party and decorated it with Gummy Worms to create a "creepy" effect.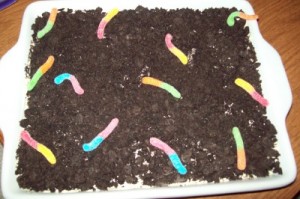 However, I make this delicious dessert several times during the year – minus the worms.  I know there are many recipes out there for "dirt dessert", some that even use chocolate pudding, but this is by far the best one I have tasted.  I got this recipe several years ago from my sister-in-law, Janet.  It is a family favorite and is requested quite often, and it is super easy to make.  So, you can bookmark this for a Creepy Halloween Dessert or you can just bookmark it as a very tasty dessert to make for a party or celebration.  Either way, I know you are going to love this.
You will need:   
1 lb. pkg. of OREO Cookies (I think the package is actually 15.5 oz.)
8 oz. cream cheese, softened
8 oz. Cool Whip
1 large box of JELLO Instant Vanilla Pudding (5.1 oz. pkg.)
2 ¾ cup of milk
Crush the OREO's into fine crumbs.  I put mine in a plastic Ziploc bag and used a soup can as a rolling pin to crush it.  You can also use a food processor.  Set aside.
Mix the package of vanilla pudding and the milk and blend until thick.
Add the cream cheese and Cool Whip and mix well.
I usually serve mine in a rectangular baking dish.  I put half the crushed Oreos on the bottom of the pan, then I pour the creamy pudding layer on, then top with the remaining crushed Oreos.
I've also seen this served in individual cups or smaller dishes.  If you choose to serve it that way, you can do several layers.
Also, if you are making this creepy and want to use Gummy Worms, my favorite brand is Trolli, Sour Brite Crawlers.  These are really good.
Enjoy!