Dear faithful readers, I wanted to apologize for not writing in a while.  Other tasks took a front seat and time seemed less and less abundant.  But now, I think I am back on track.
So, I thought I would offer a simple recipe for those times that you may also be "short on time".  My sister gave me this recipe.  It's a quick and easy casserole that you can whip up for dinner.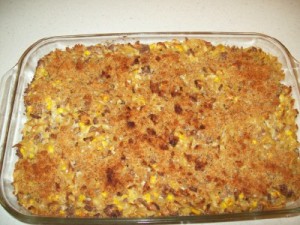 It's very satisfying too.  If possible, select soups that are low in sodium.
Give this a try.  I think you will like it.  We did, and it's super easy and super quick to make. And, if you have any quick and easy casserole recipes, please share them with us.
You will need:
1.5 lbs. of ground beef (I like ground chuck)
1 medium onion, chopped
1 can of cream of mushroom soup
1 can of cream of chicken soup
1 can of corn niblets, drained
8 oz. sour cream
Salt and Pepper, to taste (I think you can skip the salt.)
¾ Bag of Large Wide Egg Noodles, cooked
Bread crumbs and melted butter for topping (optional, but recommended)
Preheat oven to 350 F.
Brown the ground meat and chopped onion in a large skillet.
When the meat is browned, add the soups, corn and sour cream.
Add salt and pepper to taste.
Stir in the cooked noodles.
Transfer to a 13 x 9 baking dish.
Mix some dry bread crumbs with melted butter and sprinkle over top of casserole.
Bake uncovered at 350 F for 30 minutes or until heated through.
Serve and Enjoy!