Most of you already know I am a chocolate lover and that I love cannoli.  But I don't think I've told you how much I love Tiramisu.  Yes, another one of my favorite desserts (not sure how many favorites you can have).  There are so many different recipes for Tiramisu using different combinations of coffee, liquor, cocoa and cheese.  The most common recipes call for layers of ladyfingers soaked in strong coffee along with a mascarpone cheese layer and cocoa.  The name Tiramisu means "pick me up", and probably refers to the boost you get from caffeine in the espresso and cocoa used in the recipe.
Well today, I am going to give you the easiest recipe that you will ever find for a delicious Tiramisu Cake.  There are only three simple steps to take for this cake.  Step 1, go to COSTCO.  Step 2, buy their Tiramisu Cake from their bakery.  Step 3, Serve and Enjoy!
Sorry, I know you were expecting my family's secret recipe for Tiramisu, but I just had to share this with you.  Anytime I find a product I really love, I tell you about it, and this is one product I really, really love.  This cake is so good; I know you will love it too!  And, it is a great cake to serve company.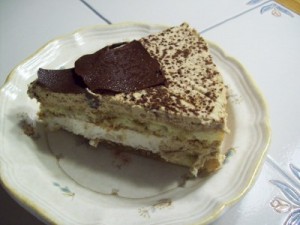 Just look at these luscious layers.  Doesn't it make your mouth water.  Mine is.  I am going to get another piece now.  You go get your own!  You won't be disappointed.