My Uncle has a huge garden in which he grows some of the best vegetables used in many of our Italian recipes.  He grows plants like tomatoes, zucchini, eggplant, peppers, and of course basil.  Actually, he grows a pretty large crop of basil.  I've already given you a few recipes where I use basil as a topping and I've told you about the Health Benefits of Basil.  Today I am going to share my Aunt and Uncle's recipe for Pesto.  They make lots of pesto and they put it in small containers and freeze it.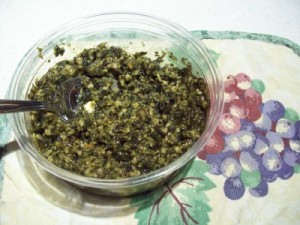 That's great for when company comes; they can just pull out a container of pesto, boil some water for pasta, and serve up a delicious pesto pasta meal.  Try this recipe.  It is really easy to make and it is delicious.
You will need:
¼ cup pine nuts
1 clove of garlic, peeled
3 cups of fresh basil leaves, lightly packed
¼ cup freshly grated Parmesan cheese
1 TBSP fresh lemon juice
¼ cup olive oil
Salt & freshly ground black pepper, to taste
In a food processor, process the pine nuts and garlic together until minced.
Add the basil, Parmesan cheese and lemon juice and process until finely minced.
While the processor is running, slowly pour the oil in a steady stream through the feed tube.
Process until well blended.
Season with salt and pepper.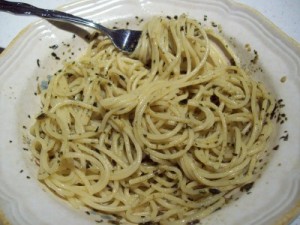 Serving Suggestion:  Toss over hot pasta and Enjoy!