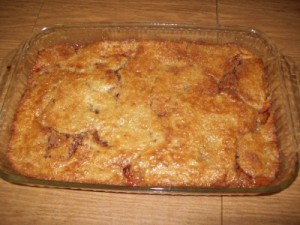 Last weekend we celebrated my mom's birthday.  My sister and I cooked dinner for the family and we each made a dessert.  She made chocolate brownies and I made peach cobbler.  My mom loves fresh peaches, so I thought this would be a good choice.  Well, everyone loved it.  It was really good and when I was making it, the house smelled so good. 
Give this a try; it is really easy to make and I know you will love it.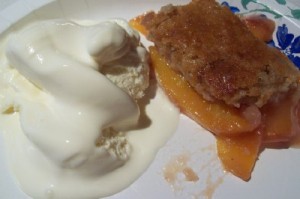 It tastes really good warm served with vanilla ice cream.  If you have any great fresh fruit recipes, please share them with us.
 You will need:
1 stick of butter (1/2 cup), melted
Batter
1 cup of flour
½ cup granulated sugar
½ cup brown sugar
1 TBSP baking powder
1 tsp. cinnamon
Pinch of salt
1 cup of milk
Peach Filling
1 cup granulated sugar
5 cups of fresh peach slices
1 TBSP fresh lemon juice
1 tsp vanilla extract
Cinnamon to sprinkle on top
Preheat oven to 375 F.
Pour the melted butter into a 13 x 9 baking pan, ensuring the entire bottom of the pan is covered with butter and the butter is distributed evenly.
In a medium bowl, combine the flour, ½ cup sugar, ½ cup brown sugar, baking powder, tsp. of cinnamon and salt.
Add the milk and stir just until moistened.
Pour the batter over the melted butter – DO NOT stir.
In a large pot, combine 1 cup of sugar, the peach slices and the lemon juice.
Bring to a boil over high heat, stirring constantly.
Remove from heat and stir in vanilla.
Pour over batter – DO NOT stir.
Sprinkle with cinnamon.
Bake at 375 F for 30 -40 minutes or until golden brown.
Serve and Enjoy!  (Don't forget the vanilla ice cream – YUM!)