Recently I posted some funny Jokes about being Italian.  One of the things listed was "Italians do not care about cholesterol".   Well, this post will certainly be a testimony to that.
This recipe (if you can call it that) is from my dad.  I can't really say it's an Italian specialty, but it's his creation, and he is 100% Italian.  So here it is, one of Carmen's favorite sandwiches.  Now my first reaction to this was, "you gotta be kidding".  But, I did try it, although reluctantly, and surprisingly it was very tasty.  However, I couldn't bring myself to using butter on the sandwich, even though I think that is my dad's favorite part. Yeah, he's the guy who uses so much butter that we say "why don't you have a little toast on your butter".  Anyway, I guess if you think about this sandwich creation, it's a little like all these sweet and salty products that are so popular.
So, if you are up for trying something different, and you like sweet and salty, this might just be the sandwich for you.  And, no, I am not kidding.  Just ask Carmen.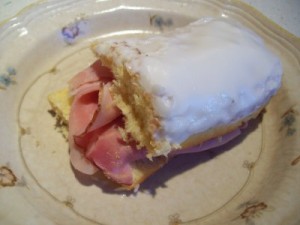 You will need:
1 Vanilla Long John from your favorite bakery, sliced length wise
3 or 4 slices of thinly sliced baked ham from the deli counter
Butter, pats to spread (if you dare)
Butter the bottom inside of the long john.
Top with ham slices.
Top with vanilla frosted long john.
Serve and Enjoy!