Last week we had our kick-off meeting for our GEMS Club.  Our club leader walked us through the new schedule for the year and talked about our upcoming theme night.  She also brought in two delicious pies from Baker's Square – Lemon Supreme and French Silk.  (Believe it or not, I opted for the Lemon Supreme – quite delicious!)  But, she wasn't done spoiling us.  She had a gift bag for each counselor with a note and some thank you items.  It was so cute and very creative.  She said she wouldn't mind if I shared it with you.
The gift bag contained the following note: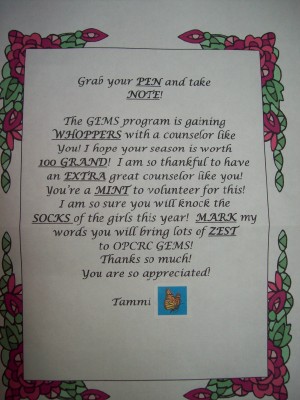 Inside the gift bag was an item corresponding to each word in bold.  We received a pen and note pad with the GEMS logo, a box of chocolate candy whoppers and a 100 Grand chocolate bar, a pack of Extra gum, some hard peppermint candies, a pair of socks, a bookmark with our bible theme verse, and a bar of Zest soap.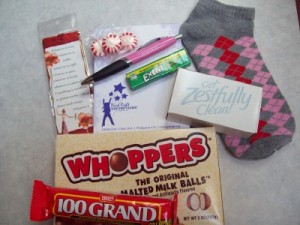 I thought this was such a cute gift idea.  You can use it or tweak it to fit your needs.
If you have any creative gift ideas, I'd love it if you would share them with us.