It's hard to believe that there are only a few days left of summer vacation.  It's time to get ready for a new school year.  Time to buy school supplies, time to pack lunches, and time to start filling in those calendars with all the extra activities.  Last year around this time I offered you some helpful tips about making school lunches a bit more exciting.  Specifically, I focused on the "sandwich".  You can re-read that post to help you out this year.  But, I wanted to add one new idea for making the "sandwich" more interesting.
I recently discovered a new type of bread that my family really enjoys.  I'm not saying it's a new concept, it is just new to my family because we had never tried this until recently.  I bought a package of LABRIOLA Pretzel Buns.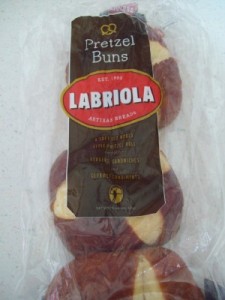 This is a soft old world style pretzel roll and my family just loves it for sandwiches.  
It is so tasty and we like the soft texture. 
Our favorite combination is thinly sliced smoked turkey breast, provolone cheese, and spicy mustard on the Pretzel Bun.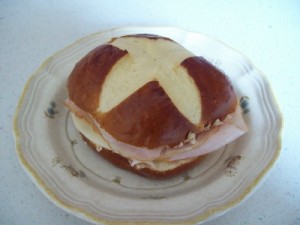 Well that's my hot tip for the day.  Another way to make school lunches a bit more tasty and a bit more exciting than the usual sliced bread.  If you have any great sandwich or school lunch tips, please share them with us.