If you have read some of my posts in the past, you know that one of my favorite desserts is Cannoli.  That is a special treat for me.  Some of my family is from the North Side, so they have access to some of the best bakeries in town.  I get to benefit from that too, because when we have family parties, they bring some of those delicious bakery items for all of us to enjoy.
Recently we celebrated my uncle's birthday and my cousin Gina was in charge of getting the birthday cake.  Well, HOLY CANNOLI!  No, literally – HOLY CANNOLI!
When they brought out the cake, I thought I was in heaven.  I had never seen such a cake.  It was a large edible cannoli shell filled with mini-cannoli.  This was the coolest birthday cake I had ever seen.  And, I might add, one of tastiest ones too.
I just have to share these pictures with you.  Get ready to drool!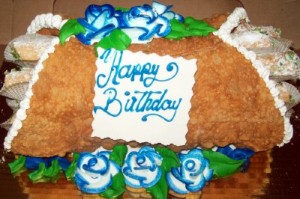 Isn't this just the most awesome cake you have ever seen?
Here's a side view so you can see all the mini cannoli stuffed inside.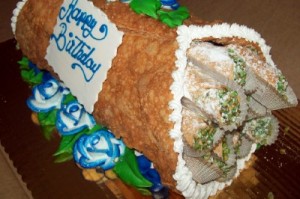 The name of the bakery where this masterpiece was created is Giardino Del Dolce.  They have a shop in Chicago and in St. Charles, IL.  I just wanted to share that with you in case you were looking for a cake that really "takes the cake."  And, if you have any super special birthday cake ideas, I would love to hear about them.