Are you in need of a little indulgence?  Well then, do I have a suggestion for you.  Actually, I have two suggestions.  Recently I tried two new products that I fell in love with.  Both satisfy my sweet tooth, and both have a luxurious creamy texture.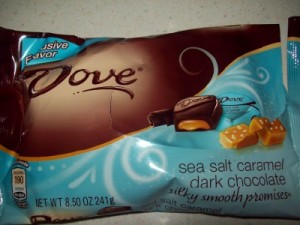 My first recommendation is Dove's Sea Salt Caramel Dark Chocolates.  These are fantastic.  You cannot eat just one.  In fact, I was very happy to read that the serving size was five pieces.  Not only do you get the taste of rich creamy chocolate, but you get the added treat of rich creamy caramel.  So good!  Oh yes, don't forget the fact that each little piece contains a cute little quip on the inside of the wrapper.  Things like "Happiness is Contagious" or "Live Your Dreams".  But my favorite was "Too Much of a Good Thing is Wonderful".  And that's what these are – good things and absolutely wonderful.  Give these a try.  I know you will love them.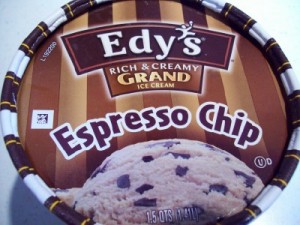 My second recommendation is Edy's Rich & Creamy Espresso Chip Ice Cream.  Oh boy is this good!  Very Rich, Very Creamy, and Very Coffee!  I only wish this package also said "serving size 5".  Anyway, you must try this – you will love it.
Well, those are my two new favorites.  It's always good to indulge a little every once in a while, and treat yourself to something special.  And these are surely special.
If you have any great suggestions for ways to pamper yourself, I'd love to hear about them.