Here's a great way to turn an ordinary Italian Roast Beef Sandwich into a super delicious meal.  I went to my local Italian Deli and bought Italian Beef with gravy, a package of Italian Rolls, and a jar of Mancini Roasted Sweet Red Peppers.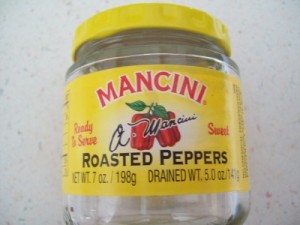 Sometimes I make my own roasted peppers and sometimes we use Hot or Mild Giardiniera Peppers.  But, one of my favorite peppers on an Italian Beef Sandwich is Mancini Roasted Sweet Red Peppers that I marinate.
I empty the jar of peppers into a colander and rinse them and pat them dry with a paper towel.  I put them in a bowl and add a few cloves of freshly minced garlic and some olive oil.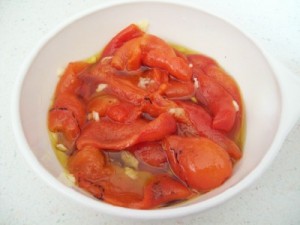 I mix this together and let it marinate in the refrigerator for at least an hour.
Add these delicious peppers to your beef sandwich, serve it with a side of pasta salad and you have a quick and easy dinner that will leave your family asking for seconds.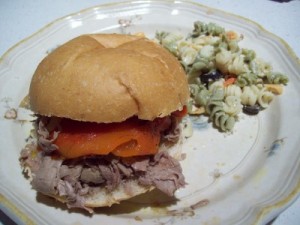 I made this the other night for just the three of us and I wish I would have bought another pound of beef and a bigger jar of peppers.  It was so yummy!
Give this a try.  I know you and your family will love the way these peppers enhance your meal.  If you have any simple tips for making regular sandwiches taste extra special, please share them with us.
Enjoy!