If you've read some of my previous posts you know that I like chocolate and peanut butter and that one of my favorite snacks is People Puppy Chow (Muddy Buddies).  Well, today I made another snack using Chex Cereal that I found right on the back of the cereal box – "Chex Lemon Buddies".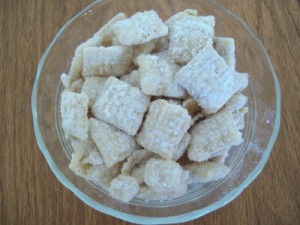 I had a party to go to and thought I would try this.  It was very tasty and my family really enjoyed it.
The original recipe as written on the cereal box is listed below.  When I made it, I chose not to include the grated lemon peel because I didn't want too strong of a lemon flavor.  I only used the fresh lemon juice and the outcome was a very faint hint of lemon.  Next time I make this, I will try it with the lemon peel.   To save on time, I just mixed everything in my very large mixing bowl.  I didn't pour it into a plastic bag to coat with powdered sugar; I just mixed it in the bowl.  Additionally, I did not lay it out on foil or wax paper.
This is a great snack for a party and a nice change from the chocolate peanut butter version.  (I can't believe I just said that.)  Give it a try.  And, if you have any recipes for quick and easy snacks, I hope you will share them with us.
You will need:
9 cups of Rice Chex cereal
1 ¼ cups white vanilla baking chips
¼ cup butter
4 tsp. grated lemon peel
2 TBSP fresh lemon juice
2 cups powdered sugar
Into large bowl, measure cereal; set aside.
In a 1-quart microwavable bowl, microwave chips, butter, lemon peel and juice uncovered on High 1 minute.
Stir.
Microwave about 30 seconds longer, or until mixture can be stirred smooth.
Pour mixture over cereal, stirring until evenly coated.
Pour into 2-gallon re-sealable food-storage plastic bag.
Add powdered sugar.
Seal bag; gently shake until well coated.
Spread on waxed paper or foil to cool.
Store in an airtight container.
Enjoy!