Yesterday I told you about the Mexican Fiesta we had for my sister's birthday and I gave you my recipe for Pork Burritos.  Today I want to share the recipe for the dessert I made, Mexican Cheesecake.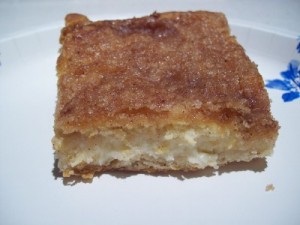 You might already have this in your collection, but if you don't, be sure that this one is a keeper.  It is super easy to make and super delicious.  My family loves it and I know yours will too.  Give it a try and let me know what you think.  And, if you have any super easy, super tasty recipes, please share them with us.
You will need:
Two 8 oz. packages of Crescent Rolls (I used Pillsbury Crescent Rolls.)
Two 8 oz. packages of Cream Cheese, softened
1 tsp. vanilla (I used a bit more than 1 tsp.)
1 cup of sugar
1 stick of butter, melted
¾ cup sugar
1 tsp. cinnamon (I used a heaping teaspoon.)
Preheat oven to 350 degrees.
Spray a 13 x 9 baking pan with cooking spray.
Line the bottom of the pan with one package of the crescent rolls.  Be sure that all seams are pressed smooth and sealed.
Bake for 3 minutes.  Then, remove from oven.
In a large bowl, combine the cream cheese, vanilla, and 1 cup of sugar.
Use an electric mixer and mix until very smooth.
Pour the cream cheese mixture over the crust.
Carefully lay the 2nd package of crescent rolls over the top of the cream cheese layer.
In a small bowl, combine the melted butter, ¾ cup sugar, and cinnamon and mix well.
Pour the mixture over the top of the crescent rolls, covering the entire area.
Bake for 30 – 35 minutes.
Can serve warm or at room temperature.  I served mine at room temperature.
Enjoy!