The other day I gave you my Aunt Eunice's recipe for Cream Cheese and Walnut Stuffed Dates.  Today I will share my Aunt Cindie's recipe for dates stuffed with goat cheese.  She bought all her ingredients at Trader Joe's.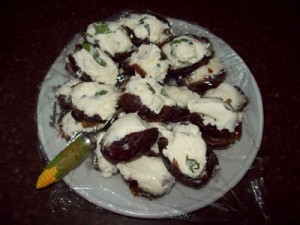 This is a great appetizer to serve your guests.  For a variation, you can wrap each stuffed date with a thin slice of Prosciutto.
This is a very simple, easy recipe and very tasty.  Give it a try.  And, if you have some great recipes using dates, I would love if you would share them with us.
You will need:
Package of Dates
2 TBSP of Mascarpone Cheese
6 oz. log of Goat Cheese
10 Leaves of Fresh Basil, chopped
Prosciutto (optional)
Remove the pit from the date.
Combine the cheeses and the basil and mix well.
Stuff the cheese mixture into the date.
Wrap a thin slice of prosciutto around the stuffed date.  OPTIONAL
Serve and Enjoy!