Over the weekend I had my family over to celebrate my sister's birthday.  We take turns making dinner for each other when it's our birthdays.  She said she wanted Mexican Food.  So, I put together a little Mexican Fiesta for her, including some Mariachi Tunes that my husband downloaded from ITunes.  It was a great evening.  I cooked up some of my favorites for her.  We started with an appetizer of Nachos.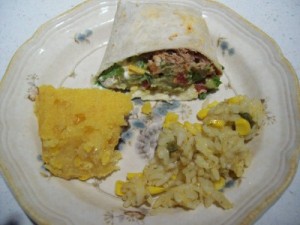 For dinner I made Chi Chi's Corn Cake, Spinach Enchilada's, Pork Burritos, and Rice with Poblano Peppers.  Of course with had all the fixings – guacamole, sour cream, tomatoes, shredded lettuce, and shredded cheese.  And, finally, we ended the evening with Key Lime Pie, Mexican Cheesecake, and a family game of Mad Gab.  We had a great time.
I have shared most of these recipes with you before – just click on the link to view them.  However, the new recipe I am going to share with you today is Pork Burritos.  I experimented with pork tenderloin, a crockpot, and some seasonings, and the result was delicious.  In the past, I have made burritos using ground beef or chicken, but never pork.  They turned out really good, and it was so simple since the crockpot did all the work.  Give these a try; I know you will like them.  And, if you have any taco, burrito, or other Mexican recipes your family loves, please share them with us.
You will need:
Pork Tenderloin – I used a 2 and 1/3 pound tenderloin.
4 oz. can of diced green chilis
10 oz. can of diced tomatoes and green chilis (I used Red Gold.)
2 large cloves of garlic, minced
One heaping TBSP of Taco Seasoning (I used Trader Joe's Taco Seasoning Mix)
¼ cup of water
—————-
Flour Tortillas (I used Azteca Home Style Flour Tortillas; they are a bit thicker than their regular flour tortillas.)
Toppings:  guacamole, sour cream, tomatoes, shredded lettuce, shredded cheese
Place the pork tenderloin into the crockpot.
Add the can of green chilis, the diced tomatoes and green chilis (including the juice), the minced garlic, the taco seasoning, and the water.
Cover and cook on low for about 7 hours.
Using a fork and knife, shred the cooked pork.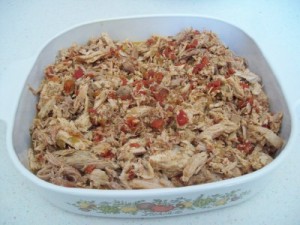 Heat the tortilla as per package directions.
Place a heaping of the shredded pork in the center of the tortilla.
Add your favorite toppings.
Roll into a burrito.
Enjoy!