No, it's not what you think!  This is a RECIPE for Mojito Bars – the dessert kind.
I found this recipe in a Local Coupon Flyer I got in the mail.  My sister had an "end of summer" party last week and I brought this as a dessert.  It was really a hit and I got lots of compliments on it.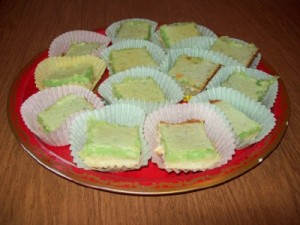 The texture is similar to that of Lemon Bars, but the flavor is pure Mojito.  When I made this, I omitted the grated lime peel.
Give these a try.  I think you will like them.  And, if you have any unique dessert recipes, I'd love it if you could share them with us.
You will need:
3 TBSP light rum
16 fresh mint leaves, chopped
¾ cup butter, softened
½ cup powdered sugar
2 cups of flour
4 eggs
1 and ½ cups granulated sugar
¼ tsp. salt
2 tsp. grated lime peel (I omitted this.)
2/3 cup fresh lime juice
2 – 3 drops of green food color (optional)
2 TBSP milk
1 TBSP powdered sugar
In a small bowl, combine the rum and chopped mint.
Set aside.
Heat oven to 350 F.
Spray a 13 x 9 pan with cooking spray.
In a large bowl, mix the butter and ½ cup of powdered sugar together with an electric mixer on medium speed.
Mix in 1 and ¾ cup of the flour on low speed, just until well combined.
Press in pan.
Bake approximately 22 minutes until set and lightly browned.
Meanwhile, in a large bowl, mix the eggs and sugar with a whisk.
Add remaining 1/4 cup flour and salt.
Mix with whisk until blended.
Mix in lime peel, lime juice, food color and milk.
Place strainer over a medium bowl and pour the rum mixture into the strainer.
Press the mixture with the back of a spoon through strainer to drain liquid from leaves.
Discard the leaves.
Mix strained liquid into egg mixture, with whisk until well combined.
Pour over partially baked crust.
Bake 25 minutes longer or until center is set.
Cool completely, about 1 hour.
Sprinkle with powdered sugar.
Cut into bars and store tightly covered in the refrigerator.
Serve and Enjoy!