Today's recipe post is from someone who doesn't usually post recipes.  Not only did he create and cook this delicious meal, he also caught it.  Yes, today's post is from my husband, Rich.
We spent last week in beautiful Northern Michigan and Rich was fortunate to be able to fish on Lake Michigan with my cousin Mark.  Not only did he have a really good time, he had a really good catch.  Actually, he had several really good catches.  My freezer is bursting at the seams!
Check this out.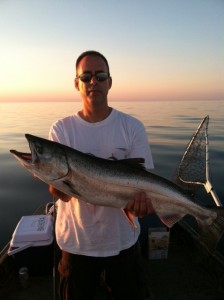 Pretty awesome!
Well, you will be hearing more about our wonderful Michigan Vacation, but for now, here is Rich's recipe for the King Salmon he caught off the shores in Manistee, Michigan.  We had our entire family over for dinner last night and all enjoyed his delicious catch.
For Rich's King Salmon Recipe, You will need:
Aluminum Foil
Salmon (or your other favorite fish fillet)
Stick of Butter, cut into slices
White Onions
Garlic Salt
Black Pepper
Dried Sweet Basil Leaves
Cut a large sheet of aluminum foil, big enough to make a foil packet to enclose your fish fillet.
Place the fish fillet in the center of the foil.
Sprinkle a generous amount of the garlic salt, black pepper, and basil on each fillet.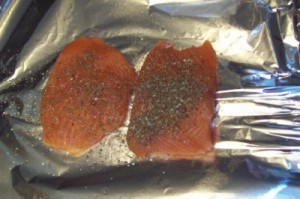 Place 2 – 3 slices/ pats of butter on each fillet.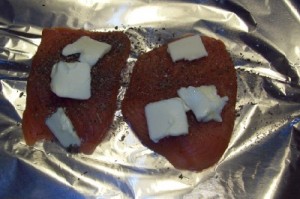 Cut the white onion into medium sized ring slices.
Place several rings of the onion on the seasoned fillet.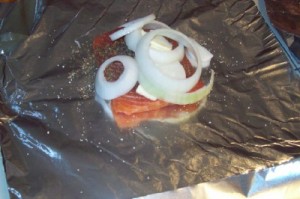 We had so much salmon to prepare we had to use our entire kitchen table to make packets for the hungry crowd we invited for dinner.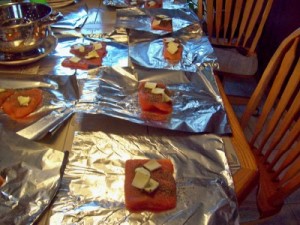 Carefully close up the foil to create a foil packet around the fillet – it should be completely sealed.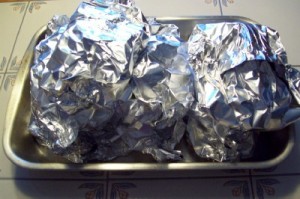 Place on heated barbeque grill for 20 minutes.
Unwrap the foil packet and plate the cooked fillet.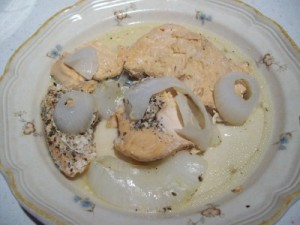 Serve and Enjoy!