Well tomorrow is July 4th, Independence Day; a day for celebration and outdoor fun.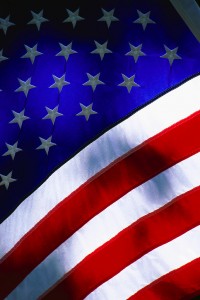 Maybe you will be going to a parade, a BBQ with family and friends, a fireworks show.  Certainly you will see a lot of red, white, and blue.  You can use so many creative ways to proudly display our country's colors at your own home celebration.
Inexpensive red, white, and blue table ware and decorations can be bought at the Dollar Store.   This is a great way to make your party really festive.  You can also use creativity to include these colors in your food preparation.  Desserts are an easy way to display red, white, and blue.  Cookies, cakes, and cupcakes can make use of colored frosting and they can be decorated with stars and stripes.  Blueberries, strawberries, and white whipped topping are another easy way to proudly display red, white, and blue on your desserts – maybe even make a cheesecake with them.  Clear cups holding red and blue Jello cubes topped with Cool Whip is another cool, refreshing and colorful dessert.  You can even dip large sized strawberries in white chocolate and finish with a dusting of blue sugar or another layer of white chocolate with some blue food coloring added.
You can also think beyond dessert to show off your red, white, and blue.  You can buy corn tortilla chips that are colored red, white, and blue.  Why not serve them with a Mexican style dip – red salsa or watermelon salsa, taco meat and/or bean dip topped with sour cream and diced tomatoes in alternating striped rows.  How about potato salad made with red, white, and blue/purple potatoes.  You can serve that next your burger topped with bleu cheese and sliced tomato.  Or maybe grilled chicken topped with red salsa. Get creative.  Your options are endless.  And, don't forget about drinks – there are lots of ways to include color there.
So enjoy your holiday. Display your red, white, and blue.  If you have more creative ways to incorporate these colors in your cooking, I'd love to hear about them.