Well I hope everyone had a nice 4th of July and enjoyed some time with family and friends.  The other day I gave you some ideas about how to incorporate some red, white, and blue into your cooking so you could share some colorful meals, drinks, and desserts at your parties.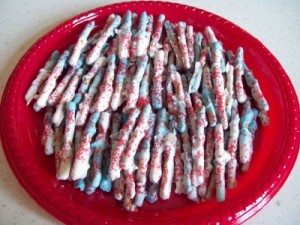 We went to my sister's house for the 4th and my daughter decided to make her own red, white, and blue treat to bring there to share. She asked for some pretzels, some chocolate, and some sprinkles.  I only had stick pretzels and red sprinkles on hand, and I had white chocolate and some blue food coloring.  With that, she made the cutest dipped pretzels ever.
We used Log House CANDI QUIK Vanilla Flavored Candy Coating.  This stuff is great; I found it at WALMART.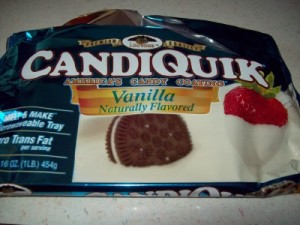 My daughter melted it in the microwave in a bowl, and then added some blue food coloring to half of it.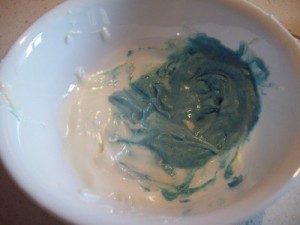 Then she rolled each pretzel in the melted coating – half was white, half was blue. 
 And to finish it off, she added some red crystal sprinkles from Cake Mate.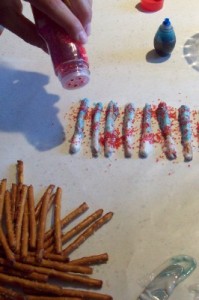 We let them harden on wax paper. The result was the cutest pretzels ever.  Very festive, and very tasty – they were quite a hit at the party.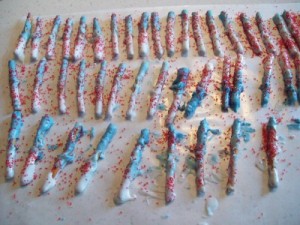 I hope this post inspires you to do some creative cooking projects with your kids.  I just love that my daughter loves to cook and bake.  And, she loves to make her own creations.  Take this idea and try it with your kids.  Adapt it to fit to your party needs.  While red, white, and blue were great colors for our July 4th celebration, you could try different color food coloring, different color sprinkles, and different shaped pretzels. 
Inspire creativity; cook with your kids. I'd love to hear about fun cooking projects you have done with your children.