During our vacation in Michigan, my Aunt and Uncle had us over for many delicious meals.  One night my Aunt made Pasta with White Clam Sauce.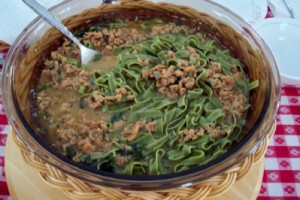 It was really tasty.  I asked her for the recipe and thought I would share it with you.  She made hers with Spinach Fettuccine, but you can use thin spaghetti too.  Give this a try I know you will like it.  And, if you have any favorite seafood pasta recipes, I would love to hear about them.
You will need:
4 cloves of garlic, crushed
1 and 1/3 cup of olive oil
1 bottle of clam juice
1 cup of white wine
1 tsp. salt
Black pepper, to taste
1 tsp. hot pepper flakes
1 and 1/3 tsp. dried oregano
6 cans of minced clams
½ cup chopped fresh Italian parsley
4 TBSP butter
½ cup Parmesan cheese
12 oz. Package of Spinach Fettuccine (or 1 lb. thin spaghetti)
Saute the garlic in the oil, until golden.  Be careful not to burn the garlic.
Add the clam juice, salt, black pepper, oregano and pepper flakes.
Add the wine and simmer for about 5 minutes.
Add the cans of minced clams with their juice.
Cook uncovered until reduced.
Stir in the parsley.
Cook the pasta al dente.
Drain and keep warm.
Stir the butter and cheese into the hot sauce.
Toss the pasta with the sauce.
Serve and Enjoy!