If you have been reading our posts lately, you have caught a few glimpses of our Michigan Vacation.  If you read our post about the King Salmon, you know Rich had the most awesome fishing experience.  If you read my recipes for Pasta with White Clam Sauce and Anchovy Dip, you know we were fed well by my Aunt and Uncle.  And, if you read Elizabeth's post about the Indigo Bunting, you know we were blessed to have spotted one.
Well, today I thought I would share a few glimpses of the awesome place we stayed at – Biddy's Hill Top Lodge.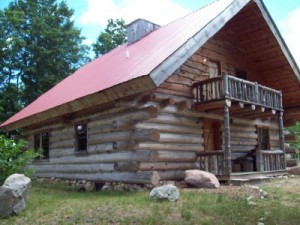 We stayed at Biddy's, a beautiful rustic log cabin, set on a private hill top in Manistee County.  The Log Cabin was so beautiful and so unique. 
The surroundings were so beautiful and peaceful.  Each morning we would wake up to the sound of birds chirping and we could watch the birds, chipmunks, and red squirrels feeding on the seed in the bird feeder.  We even saw Indigo Buntings (a rare sight) and Wild Turkeys.
  Red Squirrel                    Wild Turkey                Indigo Bunting
Our entire family loved staying here.  The place was really amazing.  The bedrooms, table, kitchen countertop and bar stools are all made from beautiful logs; all custom hand crafted furniture.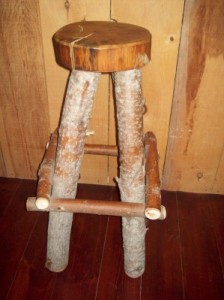 The kitchen counter was really unique.  It featured beautiful recessed stones, including many Petoskey stones.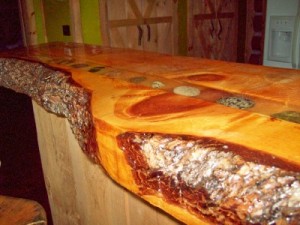 The downstairs bedroom had two beds.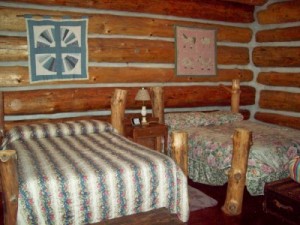 The upstairs bedroom is a large loft with attached bathroom and walk-in closet.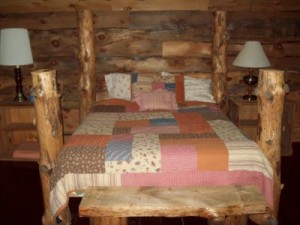 There is a winding log staircase and a massive stone fireplace.  They did have a TV, but we never even used it.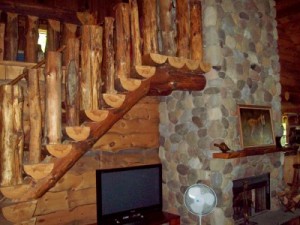 One of my favorite pieces of furniture was the kitchen table.  It was so awesome – so long we were able to seat and enjoy a nice dinner with our entire family in Michigan.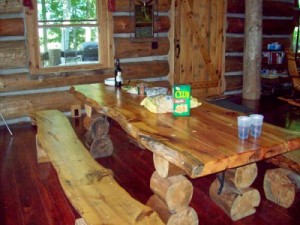 The owner was great to deal with and called when we arrived to make sure we didn't have any questions. The grounds keeper, also very friendly, is just a phone call away if you need anything. On Biddy's website, the owner writes, "It is the desire of our hearts that guests at the Biddy's Hilltop Lodge truly get away from it all, enjoy the beauty of God's creation, draw closer together and return home feeling rested and refreshed."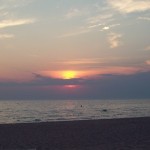 Well, this certainly was one of the most peaceful, relaxing vacations we ever had.  If you want to recharge and renew, this is the perfect vacation spot, especially if you love nature.  It is a great getaway; away from it all, but close enough to enjoy all the beautiful beaches and activities that Northern Michigan has to offer.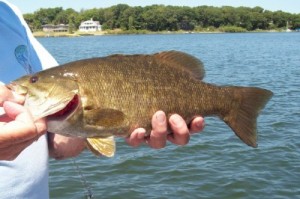 We would love to come back and stay here in the fall and winter too.  Biddy's Guest Book recorded all the wonderful experiences guests have had during those seasons.
So, if you are heading up to Northern Michigan, and desire some peace, quiet, and beauty, you definitely should check out Biddy's Hilltop Lodge.  And, we would love to hear about your favorite spots in Northern Michigan, so please be sure to leave a comment and share your vacation experiences.