Our family just discovered a hidden treasure in Tinley Park, Illinois.  It's been there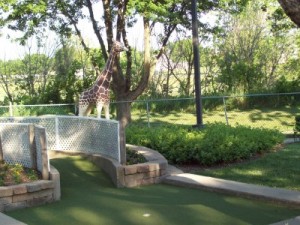 quite a while, we just never knew about it.  I am talking about a cute little mini golf course run by the Tinley Park District.  It is called Tinley Junction Miniature Golf and Batting Cages and it is located at 16801 S. 80th Ave in Tinley Park.
We went mini golfing with our friends and had such a nice time.  The entrance to Tinley Junction is on 80th Ave, but you can't really see the course from the street.  That's probably why we never noticed it.  The parking lot is at street level, but the course is slightly below it, kind of sloped downward.  There are also batting cages there and a snack bar. We didn't have any snacks and didn't bat, but we had a great time at the mini golf center.
It is a cute course with some challenging holes.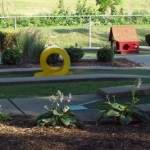 There are many surrounding trees, which provided very nice shaded areas.  There is also a cute mini train that runs through a mini town in the center of the course.  The staff there was very helpful and friendly.  And, best of all, the price was so reasonable.  The cost was $4.50 for adults and $4.00 for children 12 years and under.  That's about half of what we paid at another nearby course.  Located just a few yards from the course is a playground with swings and other equipment and a nice rubberized ground cover (instead of wood chips).  And, some nice walking/biking trails.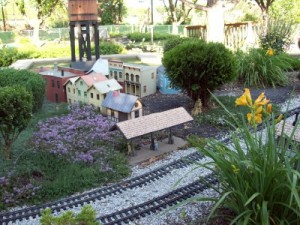 I highly recommend checking this out this summer.  It is a great place to take the family and it is not very expensive.  The course also has various promotional days throughout the summer.  Here's the link to their website so you can check out all the details, including information about the batting cages.  Tinley Junction Mini Golf
Check it out if you are in the Tinley area.  I'd love to hear your comments on this or other spots you go with your family for summertime fun.