Here's a quick and easy craft idea.  We first did this at a friend's birthday party.  The theme of the party was a Hawaiian Luau with lots of outdoor water games and fun.  We also did a couple of crafts.  One was this cute picture frame.  The frame and a bag of sea shells were purchased at the Dollar Store.  Basically, you used a hot glue gun to glue the sea shells around the frame.  That's it.  It was super easy, super inexpensive, and super cute.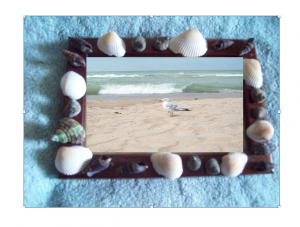 We used that craft idea from the birthday party, and took it one step further.  On Spring Break we went to Florida and my daughter collected many sea shells from the beaches there.  We used the actual shells she collected to frame some great pictures from our vacation.
 So there you have it – A really cute and inexpensive craft for a group of kids and a really cute and inexpensive keepsake from a beach vacation.  I'd love to hear some of your ideas for easy, inexpensive crafts.