Last night we had pasta with escarole, beans, and sausage.  It was so good.  I couldn't wait to get home from Vacation Bible School so I could eat the leftovers for lunch.  This is really simple to make, and I know you will love it.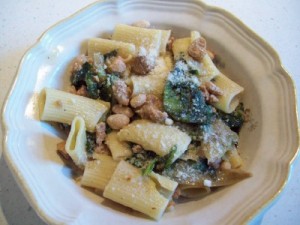 Here are just a couple of side notes before I give you the recipe.  The onion – I like to slice the onion, rather than dice it.  I slice it in rings, and then cut the rings in half.  The sausage – I bought a package of ground sausage meat, not in the casing.  If you can't find this, just buy Italian sausage links and remove the casing.  Also, I bought mild Italian sausage, and I added my own red pepper so I can control the heat.  The escarole –I use a whole head of escarole.  If you have never made this before, this may seem like a lot at first.  But, it really cooks down, much like fresh spinach does. The pasta – I find it best to start cooking the pasta at the point when the sausage is browned.  Finally, whenever possible, I use low sodium products – especially for the chicken broth.
You will need:
A large pot to boil the pasta, and a large and deep sauté or frying pan for the other ingredients
1 lb. of Rigatoni Pasta
3 or 4 TBSP of olive oil
1 medium white onion, sliced in rings and then the rings sliced in half
4 cloves of garlic, minced
¾ pound mild Italian sausage meat (or you can remove the casings on Italian sausage links)
1 head of escarole, rinsed, drained and chopped
14 oz. can of cannellini beans, drained and rinsed
1 and ¾ cups of low sodium chicken broth
½ tsp. or more of crushed red pepper flakes (adjust to your liking)
Black pepper, to taste
Grated Parmesan Cheese, to taste
In a large pot, bring the pasta water to a boil.  Cook the pasta according to package directions for al dente.
In a large and deep sauté or frying pan, heat the olive oil over medium heat.
Saute the onion until tender, about 5 minutes.
Add the garlic and sauté for 1 minute.
Stir in the sausage meat and cook until nicely browned.  Use a fork to break the meat into very small crumbles.
Add the escarole and cook until wilted, stirring often, about 4 minutes.
Add the beans, chicken stock, and red pepper flakes.
Simmer until mixture is heated through.
Add the mixture to the cooked pasta and toss well.
Season with black pepper.
Serve in pasta bowls and top with the grated parmesan cheese.
Enjoy!
Try this tonight for dinner, and let me know what you think.