Did you know that you could "turn simple strips of paper into beautiful beaded jewelry?"  Well, you do now.  Read this article to find out how you can do this.
If you've read some of my previous articles, you probably know I loooooove crafts.  I got a craft kit from my neighbor for making "Paper Beads."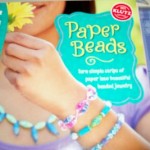 It included an awesome instruction book (it was easy to understand and it wasn't boring to read because of the colorful step-by-step pictures), bead glaze, strips of paper with fancy designs on them, stretchy elastic cord, a bead winding tool, glass beads, a drying pedestal, toothpicks, and a ruler printed on the inside of the front cover of the awesome instruction book.  This probably seems like a lot of stuff that doesn't make sense to you right now but, I'm going to take you step-by-step through the basics of how to make Paper Beads and put them into jewelry. 
First, take the bead winding tool and slide the very end of a strip of paper through the slit in it.  There are three different sized and shaped strips of paper. One is shaped as an isosceles triangle, the second is a rectangular strip of paper, and the third is still a rectangular strip but, it's smaller.  Each strip of paper will give you a different shaped paper bead.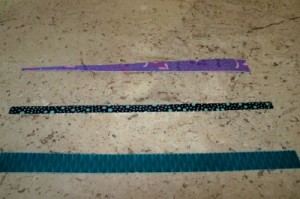 Next, begin to wind the paper around the bead winding tool and make sure it is tight (if you are starting with the isosceles triangle shaped strip of paper, make sure you start with the wide end). While doing this you should place drops of glaze on the inside of the "unwound" part of the paper so it'll stick together.
 Then, when there is almost a centimeter left of "unwound paper," spread the glaze over it and then continue to wind it until you're finished.  Hold down the end of the paper that you have spread the glaze over for about 5 seconds to make sure that it won't unwind (I learned to do that the hard way).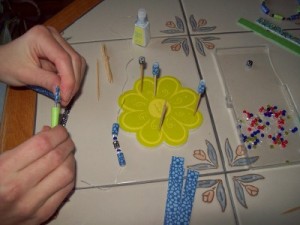 Now, you can take the paper bead off the winding tool, put a toothpick through the hole of it, and smooth the bead glaze over it (this will make it shiny and hold it together). Stick the toothpick into the drying pedestal and wait for it to dry.
 While you're waiting, you can repeat this process on other strips of paper.  When all your beads are dry you can string them together on the stretchy elastic cord and even add some glass beads in between the paper beads.  After that, tie a knot with the ends of your cord to either make a bracelet or necklace.  You will not believe how beautiful paper can look when you're finished!
There are many more intricate and unique designs featured in the instruction book, but that was the basic "paper bead method."  If you want the complicated stuff you'll have to get the kit. J
 Now, I know that not everyone that reads this has a paper bead making kit (though I urge you to get one), so here are some ways you can make paper beads too.  If you want the materials that I wrote about, you can go to www.klutz.com and order them.  Also, you can be creative and do this with materials you have at home.
If you want to make your own design for your paper beads, grab a piece of paper, draw your design, and cut out strips.  A regular rectangular strip of paper should be ½ inch wide and 6½ inches long.  A small rectangular strip of paper should be ¼ inch wide and 6½ inches long.  An isosceles triangle shaped strip of paper should start at 10/16 inch wide and narrow down to 1/16 inch wide and it should be 6¼ inches long.
You can roll your strip of paper up on a toothpick instead of using the bead winding tool and instead of using bead glaze to make it shiny and hold it together, you can use regular glue.  It works just as well!  Also instead of using a drying pedestal you could use Styrofoam, put a piece of tin foil over a bowl and pop the toothpicks through, or use pretty much anything that's "foam-like" or anything that can hold a toothpick up.
 Some other ideas you could use are using scrapbooking paper or even using old newspapers (Reduce, Reuse, Recycle!).
 I hope you enjoyed my article and I hope it encouraged you to be creative and start enjoying the fun you can have with paper!  If you have any fun craft projects for kids, I'd love to hear about them.
 Write to you soon.  Bye for now.