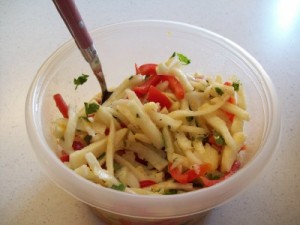 My Aunt Cindie brought this tasty salad to our Memorial Day Party.  It was lite, crunchy, and refreshing.  This would make a nice addition to your summer BBQ parties.  Give it a try!
And, let me know if you have any great recipes for refreshing summer salads.
This recipe yields about four ½ cup servings.
You will need:
Salad
1 small jicama, about ½ pound
1 small red bell pepper, diced
2 green onions, finely chopped
2 TBSP fresh cilantro, chopped
Dressing
1 TBSP Olive Oil
1TBSP fresh lime juice
¼ tsp. fresh lime zest
1 TBSP fresh orange juice
½ tsp. grated fresh orange zest
1 tsp. honey
¼ tsp. chili powder
1/8 tsp. ground white pepper
Peel the jicama and cut into thin strips.
In a large bowl, mix together all the salad ingredients.
In a small bowl, whisk together the dressing ingredients.
Pour dressing over the salad mixture and toss to coat.
Cover and refrigerate for 30 minutes before serving.
Serve and Enjoy!