Just last week I posted some tips about summer activities you could enjoy with your family for free, or at least for a nominal cost.  Today's post is from guest authors Tawra Kellam and Jill Cooper, frugal living experts from "Living on a Dime", and authors of the "Dining On A Dime Cookbook". You can check out their books by clicking on the links below.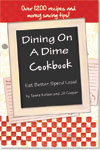 Here are their recipes for Homemade Slime, Edible Play Dough, and Homemade Bubbles. Give these a try and enjoy some good ole' homemade fun. 
Homemade Slime Recipe
1/2 cup white glue 6 Tbsp. water
food coloring 1-4 tsp. Borax 1-4 Tbsp. water
Mix the glue, 6 tablespoons water and food coloring until it is dissolved. In a separate bowl, dissolve 1 teaspoon borax into 1 tablespoon water. Add to the glue solution. You will get a very thick clump of slime when the two mix. Pull the clump of slime out of the glue mixture and put it in a separate bowl. Mix another batch of the borax solution and add it to the remaining glue mixture. Repeat until all the glue mixture is used (about 3-4 times).
With clean hands, knead the slime to mix. This will take about 10 minutes and is not very difficult as the slime easily separates between your fingers. If a looser, more slimy texture is desired, knead in a bit more water. The more water you add, the slimier it gets. The slime doesn't leave a residue and doesn't get stuck on anything. This is great for Halloween entertaining. Store in an airtight container. This can easily be doubled, tripled or quadrupled.
Edible Play Dough Recipe
1/3 cup margarine 1/3 cup light corn syrup 1/2 tsp. salt 1 tsp. vanilla extract or flavorings 1 lb. powdered sugar food coloring (optional)
Mix first 4 ingredients together. Add powdered sugar. Knead it. Divide and add food coloring. Keep the homemade play dough refrigerated to keep from spoiling when not in use. You can replace vanilla with flavored extracts to give flavor other than just plain sweetness.
Homemade Bubbles Recipe
1/4 cup liquid dishwashing detergent 1/2 cup water 1 Tbsp. sugar
Put the dishwashing detergent in the water. Carefully stir in sugar trying to avoid suds. Take a regular drinking straw and cut into 4 pieces. Then dip into the solution and blow your bubbles. Tie a rope loop up to a foot in diameter on the end of a stick and make a gallon of bubbles. Dip the rope in the bubbles and run with them. This will give you giant bubbles.
Do you have any other Homemade Summer Fun Ideas? I would love it if you would share them!