Do you find that you're often so busy that it's hard to find the time or the energy to cook? Do you end up hitting the fast food places or even more expensive restaurants more than you should?  Eating out is one of the biggest causes of personal debt but after a busy day, who wants to come home and spend the time to cook dinner?
Tawra Kellam and Jill Cooper, frugal living experts fromLiving On A Dime,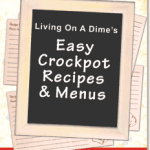 have come up with a new crockpot e-book to help you and they've offered it to our readers for 40% off this week!   When you check out the new Easy Crockpot Recipes and Menus e-Book today, you can get it for $7.77. Thats 40% OFF the regular price!
Living On A Dime's new Easy Crockpot Recipes and Menus e-Book has been prepared especially for you! It's full of easy recipes and menus that can help you save a lot of money and time preparing delicious crockpot meals in minutes so you won't have to wonder what to cook when you get home.  The Easy Crockpot Recipes & Menus e-book makes it easy for you to enjoy delicious, wholesome, inexpensive meals with an amazingly small amount of effort. With easy pre-made menus you can prepare in minutes, you'll be out of the kitchen fast!  Simply pick one of the pre-made menus, take a couple minutes to toss some ingredients into a slow cooker and know that you're saving a lot on your food spending.
Their special 40% off deal is only good until Monday! Make your meal planning easier– check it out now! CLICK HERE
 Here are a few tips from their Easy Crockpot Recipes and Menus e-book.
Using your crockpot can save you a lot of money, slash the amount of time you have to spend preparing meals, allow you to prepare more wholesome meals for your family and reduce your overall stress. Cooking with a crockpot can also save a lot of energy, because you don't have to heat up the house in the summer when you're trying to keep it cooler.
Slow Cooker Tips
Unless the recipe states otherwise, always cook with the lid on your slow cooker. It is best not to open the lid while cooking.

Many recipes that you cook in the oven or on top of the stove can be adapted to the slow cooker.

If it takes 2-4 hours to cook in the oven or on the stove top then it will take about 4-6 hours on high or 8-10 hours on low in the slow cooker.

If you need to reduce the liquid, take the lid off for the last half hour of cooking.

You could also make a mix of 2 teaspoons cornstarch with some of the liquid from the dish and stir it into the rest. Then allow it to cook and thicken.

If you find yourself going out to eat a lot because you hate the clean up,

then try using slow cooker liners. It is much less expensive to use them than to eat out. Liners are especially good to use when you have company and during the holidays.

To make slow cooker dishes even easier and faster

keep a supply of ingredients like cooked hamburger, sausage, bacon or ham in the freezer. Then you won't have to dirty a skillet or take the time to cook things like hamburger before you toss them into the slow cooker.

Normally you should fill your slow cooker about 3/4 full

, especially if you are cooking soups and stews. Add the ingredients and then add liquid to fill it to 3/4 full.

If you have a large slow cooker and a smaller recipe

, simply put the recipe ingredients in an oven proof dish (like Pyrex) and set it down inside your slow cooker. Then cover and cook.
Here are a couple of their recipes:
Barbecue Chicken
4-6 pieces chicken 1 cup barbecue sauce 1/4 cup white vinegar 1/4 cup brown sugar 1/2 tsp. garlic powder 1/2-1 tsp. red pepper flakes
Place chicken in a slow cooker. Mix remaining ingredients. Pour over chicken. Cook on low in the slow cooker about 4-6 hours.
Brown Rice and Chicken
1-2 cups diced cooked chicken 2 onions, chopped 2 stalks celery, chopped 2 cups cooked brown rice 2 cups chicken broth 1 cup sliced almonds, toasted
Combine all ingredients but almonds in a slow cooker. Cook on low 6 to 8 hours or on low 4 to 5 hours. Serve with almonds.
We hope you have found this article helpful. Do you have any other tips for saving time and money?