The other day I shared with you the crockpot recipe my friend Francie gave me.  Yesterday was such a busy day, that I thought I would make it again.  I really like this crockpot cooking.  You just put in all the ingredients, come back several hours later, and your meal is just ready and waiting for you.  Great for when you just spent the entire day at the pool!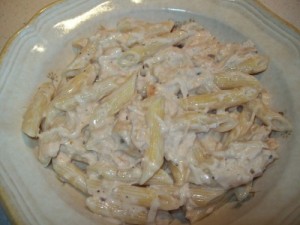 Anyway, I was pulling together my ingredients and found that I didn't have a can of cream of chicken soup.  I did have a can of cream of mushroom soup though.  And, I didn't have any egg noodles, but I did have a package of Barilla Penne.  So, I thought I would experiment a bit.  I did, and it turned out great.  The result kind of reminded me of Chicken Alfredo, so that's what I am calling this recipe.  This time I added in a half a cup of milk, and the result was not quite as thick a mixture as the original chicken soup recipe.  Therefore, I did not add a stick of butter to the pasta noodles.  I had plenty of sauce for the pasta just the way the mixture cooked in the crockpot.
So, here' my recipe for what I am calling Crockpot Chicken Alfredo.  I love to experiment in the kitchen, especially when the outcome is delicious. 
Give this a try.  I know your family will like it.  And, if you have any great crockpot recipes, I'd love to try them, so please share your favorite with us.
You will need:
4 chicken breasts (I used Market Day Chicken Steaks – they are 4 oz. each)
1 packet dry Italian Dressing Mix (I used Good Seasons Italian All Natural Dressing Mix.)
1 package 8 oz. cream cheese, softened
1 can of cream of mushroom soup (I used Campbell's Healthy Request Cream of Mushroom Soup.)
½ cup of milk
1 lb. package of penne pasta (I use Barilla Pasta.)
Place the chicken breasts in the crockpot.  (I put mine in frozen.)
Sprinkle the dry dressing mix over the chicken breasts.
Place the cream cheese in a medium bowl and microwave for 50 seconds to soften.
Add the cream of mushroom soup and the milk to the bowl of softened cream cheese, and mix with a spoon to combine.
Pour the soup mixture over the chicken in the crockpot.
Place the cover on the crockpot and cook on low for 6 hours.
Just before the chicken is ready, cook the pasta as per package directions.
Shred the cooked chicken mixture with a knife and fork.  The chicken is so tender you could probably just use a fork.
Pour the creamy chicken mixture over the hot penne pasta.
Serve and Enjoy!