I don't usually do a lot of crock pot cooking.  But after my post about the new crockpot e-book from Tawra Kellam and Jill Cooper, the frugal living experts fromLiving On A Dime, I gave my crockpot a second glance.  What really made me pull it from the cabinet was the point they made about saving energy by cooking with a crockpot because you don't have to heat up the house in the summer when you're trying to keep it cooler.   And let me tell you, it's been very hot these past few weeks.
 Anyway, my friend Francie gave me this crockpot recipe that she said her family really enjoys.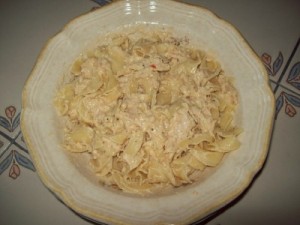 I made it yesterday for dinner, and it was really good, really easy to make, and I loved that I didn't have to turn on the oven.  I served this creamy chicken dinner over buttered egg noodles and it was a hit with my family.
 Give this a try.  I know your family will like it.  And, if you have any great crockpot recipes, I'd love to try them, so please share your favorite with us.
You will need:
 4 chicken breasts (I used Market Day Chicken Steaks – they are 4 oz. each)
 1 packet dry Italian Dressing Mix (I used Good Seasons Italian All Natural Dressing Mix.)
 1 package 8 oz. cream cheese, softened
 1 can of cream of chicken soup (I used Campbell's Healthy Request Cream of Chicken Soup.)
 1 lb. package of Egg Noodles
 1 stick of butter
 Place the chicken breasts in the crockpot.  (I put mine in frozen.)
 Sprinkle the dry dressing mix over the chicken breasts.
 Place the cream cheese in medium bowl and microwave for 50 seconds to soften.
 Add the cream of chicken soup to the bowl of softened cream cheese, and mix with a spoon to combine.
 Pour the cream cheese and soup mixture over the chicken in the crockpot.
 Place the cover on the crockpot and cook on low for 6 hours.
 Just before the chicken is ready, cook the egg noodles as per package directions.
 Add the stick of butter to the hot cooked egg noodles and stir to melt and coat evenly.
 Shred the cooked chicken mixture with a knife and fork.  The chicken is so tender you could probably just use a fork.
 Serve the creamy, cheesy chicken over the hot buttered noodles.
 Enjoy!