Here's a great recipe for Chocolate Banana Bread.  My family just loves this.  Once the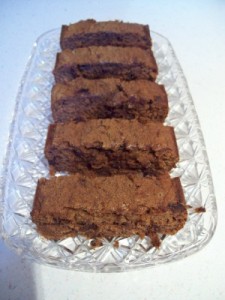 bread is completely cooled, I like to slice it and then put it in the fridge.  The chilled slices of chocolate and banana together are a really tasty treat.  You get two small loaves with this recipe, so put one in the fridge and try it and let me know what you think.
You will need:
1 ¼ cups of flour
¼ cup of unsweetened baking cocoa powder
1 teaspoon of baking soda
½ teaspoon of salt
1 stick of butter, softened  (1/2 cup)
1 cup sugar
2 eggs
2 very ripe medium sized bananas, mashed
½ cup sour cream
1 tsp. vanilla
¾ cup semi-sweet chocolate chips
Preheat oven to 350 F.
Spray two 9 x 5 loaf pans with non-stick cooking spray.
In a medium bowl, combine the first four dry ingredients and set aside.
In a large bowl, beat the butter and sugar with an electric mixture, until fluffy.
Add the eggs, mix well.
Add the bananas, sour cream and vanilla and mix to combine.
Add the dry ingredients and beat gently until combined.
Stir in the chocolate chips.
Pour half the batter into each of the two greased pans.
Bake for approx. 30 minutes, until tooth pick inserted in center comes out clean.
Cool completely.
Enjoy!