This past weekend my daughter and I went camping with her GEMS group.  There are always plenty of snacks to munch on these trips.  This time I got to try a really tasty treat that I had not had before.  I really liked it and wanted to make it for our Memorial Day Celebration.  My friend Francie said she would give me the recipe.  I made it today so I could give you the recipe instructions in case you wanted to make it for your picnic or get-together this weekend. It is super easy to make, and it makes a lot.  That's a good thing, I have been munching on a handful every time I pass the kitchen.  I really should just bring it to my sister's right now just to be sure we have some left for Memorial Day.
Anyway, I wanted to tell you a few things before I give you the recipe.  I don't usually make too many desserts that call for candy coating.  When I do, the amount I need is usually small, and I usually use Baker's Baking Squares.  This recipe called for 1 ½ lbs. of white chocolate (almond bark).  I went to WALMART to buy the ingredients and while I was looking at the white chocolate options, I found this package of Candi Quik Candy Coating.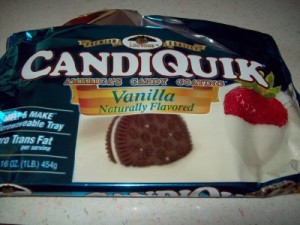 It came in a one pound package.  Although I had never heard of this before, I bought it.  I was very happy I did.  It has its own microwavable tray and the squares melted very easily.  And, it tasted great.  Since I needed 1 ½ lbs. I bought two packages.  If you can find this brand at your grocery store, I would definitely recommend it.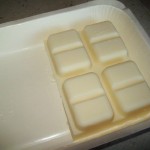 Second thing, this makes a great big bunch.  You will need a great big bowl to mix it.  And, you will need two cookie sheets lined with wax paper.
Finally, I'm usually not very big on showing you pictures for every step of a recipe.  I think that is overkill.  However, in this case, I wanted to show you:
The big bowl for mixing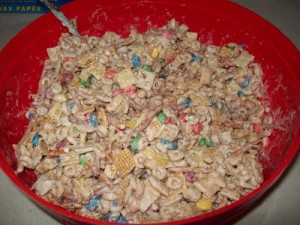 The way you lay it out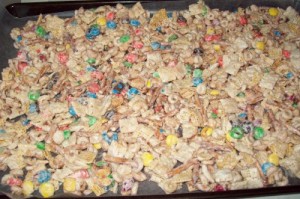 The way you break it up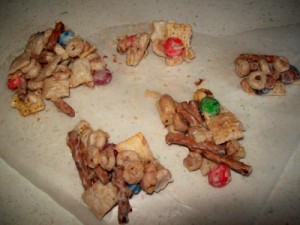 And, the cute way you can package it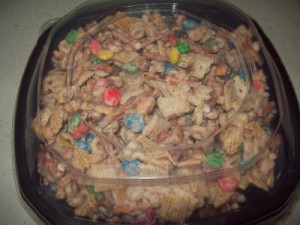 So, without further ado, here's the recipe.
You will need:
3 cups Corn Chex
3 cups Rice Chex
3 cups Cheerios
1 ½ lbs. white chocolate (almond bark)   (I used Candi Quik Candy Coating)
2 cups stick pretzels   (I broke the sticks in half before measuring)
2 cups dry roasted peanuts
12 oz. M & M's
In a very large bowl, combine the cereals, pretzels, peanuts, and M&M's.
Melt the white chocolate following the directions on the package.
Pour over the mixture.
Mix thoroughly.
Lay out on wax paper to cool and harden.  (I used 2 cookie sheets lined with wax paper.)
Break into pieces when cool.
Store tightly covered.
Enjoy!