This isn't really what I would call a recipe.  It's more of a dinner idea.  Yesterday, I was really short on time and didn't exactly know what to make for dinner.  I had some left over hamburger buns from our weekend BBQ.  I had some frozen chickens breasts.  And, I had some BBQ sauce.  Unfortunately, I really had a taste for a pulled pork sandwich.  So, I decided to make pulled chicken sandwiches.  Well, sort of.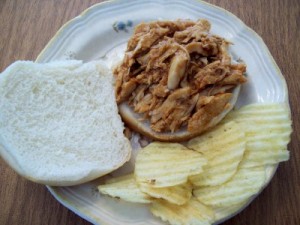 Since my idea for dinner didn't come to me until late in the day, I improvised.  I didn't have time to slow cook in a crock pot, so I placed 5 frozen chicken breasts (I used my Market Day Chicken Steaks) in a baking dish sprayed with cooking spray.  I sprinkled a little garlic salt over them and then covered the baking dish with foil.  I baked it in the oven at 350 F for an hour. (While it was baking, I continued on with my other work.)
When the chicken was cooked, I removed it from the oven and lowered the temperature to 170 F (warm setting).  Using a fork and knife, I shredded the chicken.  The chicken is very tender when you cook it this way, since it steams while cooking under the tightly wrapped foil cover.  Then, I added some BBQ sauce and stirred the mixture.
I covered the dish with foil again and placed it back in the warm oven for approximately 30 minutes.  I served the BBQ pulled chicken on hamburger buns with a side of potato chips.  Well, there you have it.  A really quick and easy meal, and a very tasty one too!  We all enjoyed it.  Give it a try.