I hope you are not thinking, "Really, another post about peanut butter and chocolate."  I'm sorry, but these are two of my favorite flavors and I can't get enough of them.  So, today I want to tell you about 2 other products my family loves.  You can purchase both of them from my favorite store, Trader Joe's.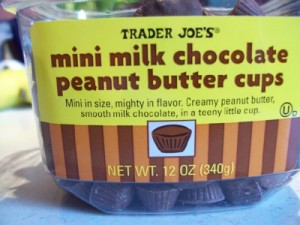 First up is Mini Milk Chocolate Peanut Butter Cups.  Oh my goodness!  These are fantastic!  Peanut Butter Cups are my favorite candy treat, and these are just so fun.  I just love "mini".  They are small in size, but huge on flavor.  But be warned, once you start snacking on these, it is hard to stop.
Well, I think the employees at Trader Joe's are so friendly.  I always talk to them and they always give me some good ideas about their products.  During my last visit, the cashier told me that she makes Trader's Joe's Truffle Brownie's (I'll tell you about those next.) and then when she takes them out of the oven she puts several mini peanut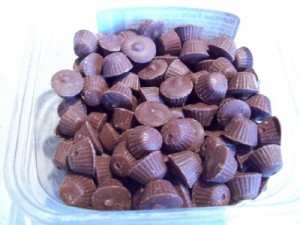 butter cups on the baked brownies, lets them melt, and then uses a knife to spread the melted candy over the top.  Boy that sounds good!  I will be trying that this weekend.  I am also going to try adding them to my favorite peanut butter cookie recipe. Anyway you eat these mini treats, I am sure they will soon become your favorite too!
OK, the second product I really like is Trader Joe's Brownie Truffle Baking Mix.  This mix uses Dutch Cocoa and Chocolate Chips.  The mix makes about 16 servings (in an 8 x 8 baking dish).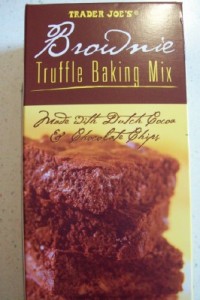 You add your own eggs and butter.  Believe me, these are a special treat.  This is not your ordinary brownie box mix – this is a delicious truffle brownie in the convenience of a package mix.  They are rich and delicious and very chocolaty.  Oh yum!  I highly recommend this.
Well, that's my picks for today.  I promise not to post about peanut butter or chocolate for a while.  Well, maybe I should say I will try not to.  Anyway, Life is short; eat more chocolate!