I want to tell you about the cutest little treats I bought at Trader Joe's.  I went there the other day and had time to really browse.  In the freezer section I spotted a box of mini chocolate ice cream cones.  I had to try them.  You know, chocolate, mini, ice cream, they were calling my name.  Boy, am I glad I gave in to that temptation.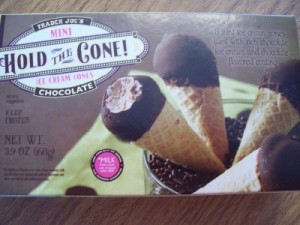 These little mini cones are so delicious, and so cute.  You get 8 mini cones for $2.99.  They are filled with rich chocolate ice cream and have a chocolate flavored coating.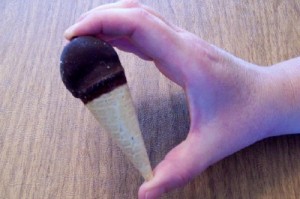 Of course they make a great snack when you just need a little something.  But, I was thinking how cute it would be to serve these mini cones at a little tea party you might have with your daughter or for your daughter and her friends.  I think they would be nice to serve as a mini dessert for a lunch you might have with your adult friends too. 
Well, that's my tip for the day. Mini chocolate ice cream cones – a tasty, frozen treat that's just the right size, and very cute and unique.  Try them.  I know you will like them.