Have you started planning for your upcoming three-day weekend?  May is a month just full of celebrations, and one that will bring this month to a close is Memorial Day.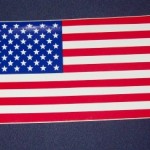 This weekend marks the "unofficial start of summer" and is a great time to gather with friends and family.
Our family is starting the day with the guys going golfing at a nearby golf course.  First we will all meet at my sister's house for some coffee and donuts.  The girls and the kids will stay there to relax and play, while the men golf.  When they return, we will have a delicious BBQ.  After that comes my favorite part, the scrumptious desserts.
Of course, we will decorate with red, white, and blue.  You don't have to spend a lot on table decorations.  We buy inexpensive red, white, and blue plates, napkins, and cups at the Dollar Store.  The buffet table will also have red, white, and blue decorations.
We will have many appetizers to munch on.  For lunch, we will be grilling some hamburgers and hot dogs.  My dad is making his Italian Sausage and Peppers, and also bringing some ribs.  We will have a little something for everyone.  (Why not try some great recipes like my Watermelon Salsa, Macaroni Salad, Grilled Steak, and Turkey Burgers  for your celebration.)
The day is supposed to be very warm, so our activities will definitely include water balloons (red, white, and blue ones of course) and sprinkler games.  We will also be playing bean bags, badminton, and Frisbee.
I am excited because my cousin is bringing cannoli, one of my favorite desserts.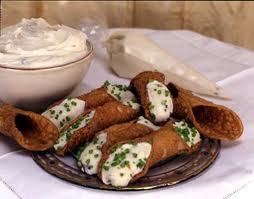 We will also be having a new dessert that I discovered at camp this weekend.  (I will post about that in the next few days.)  And, of course, we will end the day around the fire pit roasting marshmallows and making S'mores.
I am really looking forward to this weekend and spending time with family.  It is a great time to gather, relax, eat, and have fun.  But please take a moment to remember those who lost their lives fighting for our freedom and for those who are still fighting.  Enjoy your weekend, but remember why you can enjoy it. And, please pray for those men and women who keep us safe and free.