Yesterday I posted an article by Jill Cooper about making life easier without eating out.  Today I want to offer you my own suggestion for creating a wonderful eggplant parmesan dinner at home.  This meal incorporates the "convenience items" Jill talked about.  And, it incorporates products from one of my favorite stores, Trader Joe's.  By making this at home, you will save big.  If you were to order an eggplant parmesan dinner at a restaurant, you could spend anywhere from $9 – $15 a person.  (If you have a family of four, well, you do the math.) And, by using some of these convenience items, you will save time and still enjoy a delicious home cooked meal.
First, let's start with the eggplant.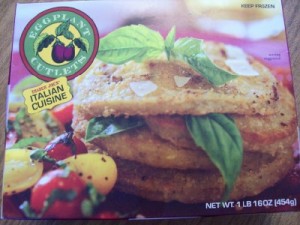 I found this great product at Trader Joe's.  It is a one pound box of eggplant cutlets.  The eggplant slices are already breaded so all you have to do is bake them in the oven.  We just love them.  And, the best part, the one pound box only costs $2.49.
Next, you will need some pasta.  As you know, my favorite pasta is Barilla.  I can get a one pound box of spaghetti for about $1.29.  Trader Joe's carries their own brand of spaghetti for 99 cents a pound.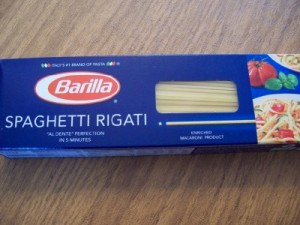 Then, you will need some spaghetti sauce.  Of course, if you have your own homemade sauce, please use it.  If you don't, I recommend Trader Joe's Traditional Marinara Sauce which sells for $1.29 for an 18 oz. bottle.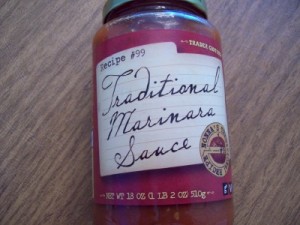 Well, if you are adding this in your head, you can see that you can feed a family of four a delicious eggplant parmesan meal for just about $5.00 total (not per person). WOW!  And it tastes great too!  Really, it is so delicious.
Now let's put it all together.  Bake the frozen eggplant cutlets in the oven.  Meanwhile, cook the pasta and heat the sauce.  With this sauce, I like to add ½ stick of salted butter to my pasta once it is cooked.  I mix it until it is melted, and then pour the warm sauce over it.  Remove the eggplant from the oven.  Place a few cutlets on a plate.  You can sprinkle a little grated parmesan or shredded mozzarella on top if you would like.  Place a heaping of the pasta next to the eggplant.  Top with a fresh basil leaf, and there you have it – a restaurant quality eggplant parmesan dinner at a fraction of the cost.
And, for a few cents more per person, you can serve it with a side salad and some garlic bread.
So stay home tonight.  Save time and money and enjoy a delicious Italian Dinner with your family.