Today I will share with you a recipe for a colorful summer salad that my sister served at our Memorial Day Party.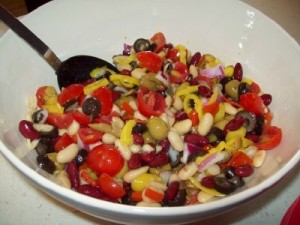 It is super simple to make and is a welcome change from the usual potato salad and macaroni salad that are regular dishes at our BBQ's.  This colorful salad is not only very tasty, it really adds to the beauty of your serving table.  Give this a try.  We liked it and I'm sure you will too.  And, if you have a favorite summer salad, please let me know.  I'd love to try your recipe.
You will need:
2 cans of white cannellini beans, rinsed and drained
1 can of red kidney beans, rinsed and drained
1 large jar of pepperoncini peppers cut into thin rings, drained
1 small can of black olives sliced, and drained
1 small can of green olives sliced, and drained
1 small red onion, diced
2 shallots, diced
1 red bell pepper, diced
1 container of grape tomatoes, washed and then cut in half
Wish Bone Mediterranean Salad Dressing (You can use your favorite Italian dressing.)
Other add-in ideas:  We served our salad as listed above.  However, you could add in grated parmesan cheese, chunks of mozzarella, or slices or sticks of pepperoni or salami.  Be creative and make it your own.
Combine all ingredients, except the dressing, in a large serving bowl.
Refrigerate for at least an hour, or until ready to serve.
Add the dressing, enough for coating, but don't over saturate the mix.
Mix thoroughly.
Serve and Enjoy!