This week is quite a busy week.  Teacher Appreciation Week, Nurse's Week, Mother's Day.  Are you still trying to come up with a unique gift idea?  Are you short on time and cash?  Then, I think you will like this post.  And, even if you already have all your gifts ready, you will still like this post.  I mean who doesn't like chocolate.  Who doesn't like strawberries?  Who doesn't like chocolate covered strawberries?
You might think you can only get this delicious treat if you order them from a specialty company or attend a fancy brunch.  But that's not true.  You can make these simple and delicious treats very quickly, and very inexpensively.  I did.  I made them for a very special nurse in our lives – my sister.
I bought a package of strawberries from WALMART.  They were really nice and red and the package had nice large and medium size berries.  I washed and dried them, and left the green stems on.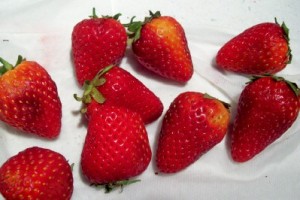 Then, I inserted a bamboo skewer in the center of the strawberry.
I melted a few squares of Baker's Semi-Sweet Baking Chocolate Squares in the microwave, as per the directions on the package.
Then, I dipped the strawberries in the chocolate and set them to harden on a sheet of wax paper.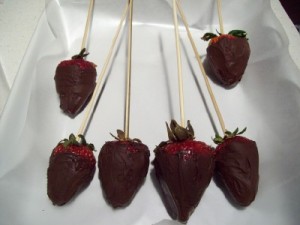 When they were completed (which only took a few minutes), we presented them to my sister in the form of a bouquet.  They were really pretty and really delicious.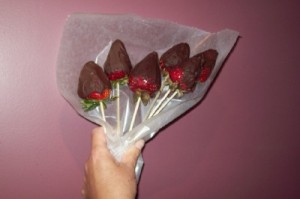 Well, there's my idea for last minute gifts for teachers, nurses, and moms.  And, these are so quick and easy to make, you might just whip up a batch for your own family.
Enjoy!