Well here is yet another delicious recipe from our Memorial Day Party.  We were blessed to have so much food and I was thrilled to try so many new dishes I hadn't had before.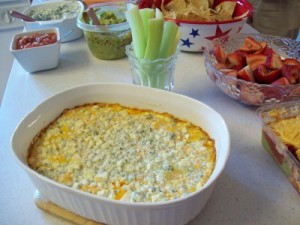 My cousin Erin brought this chicken dip that we heated in the oven.  It was so tasty and it was gone really quick.  I asked her for the recipe so I could share it with you.  This is very simple to make and your guests will surely love it.  If you have any quick and easy appetizer recipes, I'd love to hear about them.
You will need:
2 cups of shredded or diced cooked chicken (Erin used Rotisserie Chicken)
¼ cup cayenne pepper sauce (Erin used Frank's Red Hot Sauce)
1 cup Hellmann's Real Mayonnaise
1 cup of shredded Cheddar Cheese
2 TBSP finely chopped green onions
1 tsp. lemon juice
¼ cup crumbled Blue Cheese
Preheat oven to 375 F.
Mix the cooked chicken with the hot sauce.
Stir in the mayonnaise, cheddar cheese, onions, and lemon juice.
Mix thoroughly.
Transfer mixture to a 1 ½ quart shallow casserole.
Sprinkle with Blue Cheese.
Bake uncovered for 20 minutes, or until bubbling.
Serve with celery and/or crackers.
Enjoy!