This recipe is from my friend April.  She told me her son just loves these, so I thought I would give them a try.  My family likes them too.  I had quite a few ripe bananas sitting on my kitchen counter, so this recipe was perfect – it calls for 3 bananas.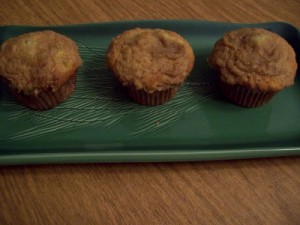 Listed below is the original recipe from April.  When I made the muffins, I increased the cinnamon amount to ¼ teaspoon.  Also, when I went to make the crumb topping, my butter was a bit too soft.  My mixture was more like paste than coarse cornmeal.  However, the muffins were just great.  Actually, the soft butter gave the cooked topping more of a caramelized texture.  It was yummy.  The recipe also says line 10 muffin cups with muffin papers.  I got 12 muffins with this recipe.
Give these a try.  I am sure they will be a hit with your family.  We enjoyed them, and they are really easy to make.  They taste great when they are warm from the oven.
You will need:
1 ½ cups of all-purpose flour
1 tsp. baking soda
1 tsp. baking powder
½ tsp. salt
3 bananas, mashed
¾ cup of white sugar
1 egg, lightly beaten
1/3 cup butter, melted
1/3 cup packed brown sugar
2 TBSP all-purpose flour
1/8 tsp. ground cinnamon (I used ¼ tsp.)
1 TBSP butter
Preheat oven to 375 F.
Lightly grease 10 muffin cups or line with muffin papers.  (I did 12 muffin cups.)
In a large bowl, mix together the 1 ½ cups flour, baking soda, baking powder and salt.
In another bowl, beat together bananas, sugar, egg and melted butter.
Stir the banana mixture into the flour mixture just until moistened.
Spoon batter into prepared muffin cups.
In a small bowl, mix together brown sugar, 2 TBSP flour and cinnamon.
Cut in 1 TBSP butter until mixture resembles coarse cornmeal.
Sprinkle topping over muffins.
Bake in preheated oven for 18 to 20 minutes, until a toothpick inserted into center of a muffin come out clean.
Enjoy!