Well, just in case you need just one more gift idea.  My friend Kim made these for our teacher appreciation luncheon.  We usually prepare trays of various baked goods for dessert.  This year, however, we wanted to try something different.  Our committee was brainstorming about what we could do.  I suggested individual dirt cups for dessert (one of my favorite desserts).  That idea didn't go over well, but they did like the idea of having an individual dessert for each teacher to set with their place setting on the table.  Then, Kim remembered a cute idea she found on Pinterest.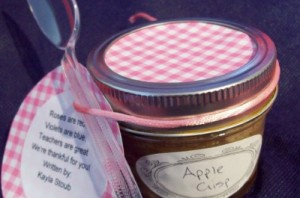 Well, she made the cutest little desserts for each teacher (over 40 teachers).  She bought the little Ball Jars (she got them at Menards) and baked apple crisp and blueberry crisp right in the jar.  She put a label on each one.  She used her Cricut Cutting Machine to cut out paper circles to decorate the tops of the jars, and also to cut out a circle that had a cute poem (composed by her daughter) that she attached with a ribbon.  Then, she included a plastic spoon.
This was really a hit.  They were so pretty on the table.  She used a variety of paper colored circles and ribbons to decorate the jars.  And, they tasted really yummy too! (She had a few extras and let me have one.)
We used these for Teacher Appreciation, but they would make great gifts for other celebrations too.  Thanks Kim!