Here's a quick and easy recipe for chili.  I made this last week for our teacher appreciation luncheon and received quite a few compliments.  I think you will like it too.  My daughter and I like to make chili-mac.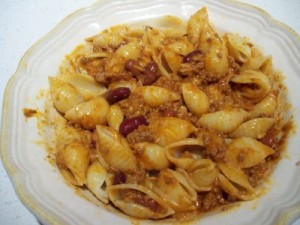 I serve our chili with pasta (this time I used shells) and shredded Mexican or cheddar cheese.  It is very yummy!  Also, I usually make a big batch and freeze leftovers.  There are so many ways to serve chili.  And, now that grillin' season is here, consider topping your burgers or dogs with chili.  Yum!  Or, serve it with a side of corn bread.  Be creative and you could get several different meals out of this one big batch.
You will need:
5 lbs. ground chuck
3 cloves of garlic, minced
1 medium/large onion, diced
3 packages of Lawry's Chili Spices & Seasoning Mix
3 cups of water
3 – 15 oz. cans of tomato sauce
16 oz. can of Bush's Chili Beans in Hot Chili Sauce
16 oz. can of Bush's Chili Beans in Mild Chili Sauce
16 oz. can of Bush's Dark Red Kidney Beans, drained
Brown the ground chuck in a large skillet along with the garlic and onion.
When the meat is browned, drain any liquid and transfer cooked meat to a large stock pot.
Add in the remaining ingredients.
Bring to a boil.
Reduce heat and simmer for 45 minutes.
Serve and Enjoy!