I made this for dinner last night and my family just loved it.  I just ate the leftovers for lunch.  YUM!  This is pretty easy to make and doesn't require a lot of time.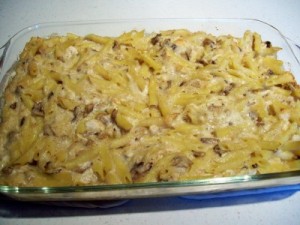 When I need cooked chicken for a recipe, I just pull out my Market Day Chicken Steaks and bake them in the oven.  For this recipe I used three chicken steaks; they are 4 oz. each.  You could use four if you would like.  I just pull them out of the freezer and place them in a baking dish coated with cooking spray.  Then I sprinkle a little garlic salt on them and cover with foil and bake at 350 F for about an hour.  They come out so tender that way.  And, I love that they are individually wrapped, so I just take out what I need – very convenient.  Once they were cooked, I just cut them into bite size pieces with a fork and knife and used them in this recipe.
You will need:
1 lb. pkg. mostaccioli  (I use Barilla Pasta)
¾ – 1 lb. cooked and diced chicken (I used three 4 oz. chicken steaks from Market Day)
8 oz. package of fresh mushrooms
4 TBSP olive oil
1 ½ tsp. garlic salt
½ cup butter
6 TBSP flour
2 cups of chicken broth (Use low sodium if possible)
1 ½ cups of milk
1 cup of bread crumbs
Black pepper, to taste
Granulated Garlic, to taste
1 cup grated Parmesan Cheese
8 oz. package shredded Italian 5-Cheese Blend (You could also use shredded mozzarella)
Clean and slice the mushrooms.
Sauté the mushrooms in olive oil, with the 1 ½ tsp. of garlic salt.
Drain and set aside.
Cook the pasta according to package directions for al dente.
Meanwhile, prepare the cream sauce.
In a sauce pan, melt the butter, and gradually add in the flour.
Whisk in the chicken broth and milk.
Continue cooking for a few minutes, stirring constantly.
Drain cooked pasta and return to pot.
Add in the cooked chicken and mushrooms.
Pour the sauce on top and mix.
Add the bread crumbs, seasoned to your liking with black pepper and granulated garlic. (a few sprinkles of each)
Add in the Parmesan cheese and the shredded cheese.
Mix thoroughly.
Pour pasta mixture into a greased 15 x 10 x 2 inch glass baking dish.
Bake at 350 F for 30 minutes.  (Uncovered)
Enjoy!