I've been talking a lot lately about how busy the month of May is with so many things to celebrate.  Included in those celebrations are graduations.  If you have a child who will be graduating from middle school, high school, or college, and you need a great gift idea, I have a suggestion.  I highly recommend giving them the book, "See You at the Top", by Zig Ziglar.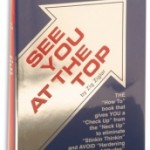 A friend of ours, a highly successful entrepreneur, recommended this book to my husband. This book is life changing and would definitely be an asset for your graduate. 
The book is positive and encouraging and guides you through the steps necessary to achieve true success.  It was written to help you get rid of excuses for failure and encourage you to succeed.  Mr. Ziglar illustrates how a right mental attitude helps you win and discusses how to develop a healthy self-image.   He also points out the necessity of recognizing the worth and ability in other people and the necessity of having a willingness to work.  His teachings stress that honesty, character, faith, integrity, and loyalty are necessary for success, and that your success and happiness starts with you.
Actually, this book is a great gift idea for anyone.  But, for graduates, it is surely a way to send them off on the right foot.  I'd love to hear from you – do you have any great books that you would recommend for graduates?
Congratulations Graduates!  May you know that anything is possible and may your future prove that.