Teacher Appreciation Week is May 7 – 11 this year.  Hopefully you are starting to make plans for ways you can show how grateful you are for all that your teachers do.  At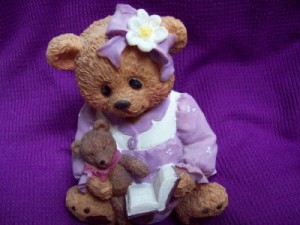 our school, room moms do something special for the teachers each day that week, and we end the week with a special luncheon for all the teachers. I thought I would share with you some of the ideas we have used in the past for our teachers' lunch.  For our luncheon, we set up a self-serve buffet table.  Then, we have five round tables decorated with spring colors where the teachers can sit, relax, eat and socialize.  We serve pitchers of lemonade and water.  And, we also prepare dessert trays filled with a variety of home-baked goodies.  Here are some of our past lunches:
1)    Mini Sandwiches – we made a variety of sandwiches, including turkey & provolone, ham & American cheese, chicken salad, and egg salad.  We used the smaller cocktail buns and mini croissants, so teachers could take a couple different sandwiches.  For toppings, we had mayo, mustard and pickles.  We also had a basket on each dining table that had Veggie Straws that we purchased from COSTCO.
2)   Soup and Salad – we had a variety of salads including mixed green salad, spinach salad, pasta salad, taco salad, and oriental salad.  For soups, we had chicken noodle, cream of broccoli and a spicy taco soup.  We also served this with rolls and butter.
3)   Around the World – we had food that represented various countries.  We served Italian sausage & peppers (Italy), mini hot dogs wrapped in crescent rolls (America), cheese cubes and grapes (France), taco salad (Mexico), sweet and sour chicken and rice and fortune cookies that we ordered from a local take out (China), German Potato Salad (Germany), and some sweet (Dutch) treats like Banket and Jan Hagels.
4)   Baked Potato Bar – we baked large potatoes and had these toppings to choose from: diced ham, bacon bits, cheddar cheese, butter, green onions, bacon, sour cream, chili, and cooked broccoli.  We also served a big bowl of Cesar Salad and skewers of fruit kabobs.
5)   Themed Lunches – we prepared an Italian Fare of lasagna, salad, and garlic bread.  Or, a Mexican Fiesta that included salads and make your own tacos. Or a Western Round-up with hamburgers, hot dogs, baked beans and potato chips.
Well I hope those ideas help to get you thinking of what you could do for teacher appreciation week.  I'd love to hear any other luncheon ideas that you have tried that worked well.
Tomorrow I will share some ideas for teacher gifts you can give throughout the week.
Have a blessed day!